"Under three things the earth trembles, under four it cannot bear up: a servant who becomes king, a fool who is full of food, an unloved woman who is married, and a maidservant who displaces her mistress" (Proverbs 30:21-23).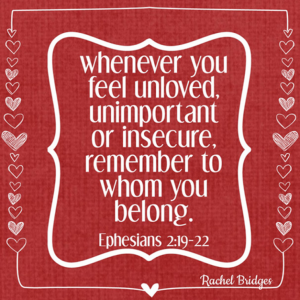 Leah was unloved.
This wasn't something she imagined, God recognized it.
God is always concerned about the conditions of our life.  He loves us and values us beyond our imagination.  We are valued because He has created us in His image with freedom to choose and a capacity to love and be loved.
He has placed with us an innate desire to be loved, however, many are moving on this earth without love and hope.  Jesus came to bring us hope but not only hope, He sacrificed His life for the sake of love.  "For God so loved the world, that He gave His Son" (John 3:16).
Our life thrives on God's love and hope.
His love is designed to energize us, motivate us, and encourage us to persevere during the tough seasons in life. Without God's love, we would be utterly lost.
There are women who feel all hope is lost because they are missing God's love from their life.  That's where we come in.  We are called to be God's hands and feet.
"We are Christ's ambassadors, as though God were making his appeal through us" (2 Corinthians 5:20). God wants to use us to make an appeal of His love and salvation to the hurting in the world.
A new command I give you: Love one another. As I have loved you, so you must love one another. By this all men will know that you are my disciples, if you love one another. (John 13:34-35)
God commands believers to love and it is their choice to obey.
He requires us to have the compassion of Christ when it comes to dealing with the unloved (Page 34).  The best way to show God's compassion is to love with action.  Ladies need to see God's love through us in action.
God's light shines through us when we sacrifice our time to show love to a co-worker suffering in a hard marriage or a single friend going through a season of loneliness.  We can say to the unloved, "God loves you"; however, how much better it is if we take time to show them the love He showed us.
Take time this week and look
for ways to spread sacrificial love to someone.  This means you may have to look deeper than what appears on the surface.   Every woman is worthy of God's love.
Feelings of being unloved can be real and not a figment of someone's imagination…