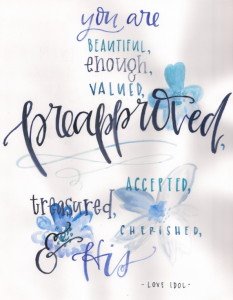 Leah had to learn to surrender her pain.
She held on to her unloved state with both hands griped tight. Oh, how she wanted love. "Children will surely bring it my way",she thought.
However Leah soon found out, her beautiful children couldn't be used as tools to gain love. God never gave up His pursuit on Leah and He will never give up on you. 
You may have tried to gain love in all the wrong ways. 
What you thought was real proved to be more disappointments.  You probably compromised your original values believing it was okay if it brings you love.  Yet, soon you realized it was another empty road of despair. 
Sisters…God never gives up His pursuit toward us because we belong to Him.  He wants to teach us how to thrive during our barren times. Thriving is living and soaring above the mess…especially an unloved mess.
Leah was unloved and God knew. 
He knew and He moved with action to come to her rescue.  God didn't remove Leah from her situation.  Instead, He revealed how much he loved her right where she was. 
God blessed Leah with beautiful children; however, the blessing that transformed her mind was when He taught her how to soar above her circumstances and worship Him.  Amazing! 
This week, we will see how Leah's unfilled longings lead to a surrendered heart toward God.  We will also discuss how she almost missed God's great blessings and His great love.  
Sister's let's be brave. 
Choosing to surrender when the world tells us different is brave and beautiful. You are valued and loved.  Walk in this truth….but most of all…walk in His love. 
 "God takes everything in our lives and uses it for the good of His kingdom" (Unloved, pg. 57).