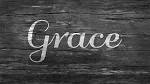 Quick riches runs through the veins of America.
Some people search endlessly for ways to get rich quick in hopes of bettering their lives.  One way they do this is by playing the lottery, as large sums of money dangles in front of their eyes.   They play in hopes of winning the top prize.
However, playing the lottery always involves a risk.  The money that is invested will not ensure a win.  It doesn't even come close to one.  It's been estimated that only one individual out of 300 million will win a mega million jackpot.  And yet, in light of these odds, many will take a chance that maybe…there's a possibility.
What if God regulated His riches like the lottery system – when only one soul out of 300 million could secure eternal life?  How would it affect our desire for Him?  The truth of the matter is God's salvation and the riches of His grace is available to everyone – not just a few.
Let's Read Ephesians 1:7-8a.  
In Him we have redemption through His blood, the forgiveness of our trespasses, according to the riches of His grace which He lavished on us.  
This scripture reveals that God's salvation grace is available only through Jesus.  God lavishes His grace on us, abundantly pour His grace over us, and His grace will never come to an end…if we are in Christ Jesus.
What are God's riches?  Well, first of all, we've been redeemed – freed from sin's penalty and its enslaving power. Jesus' death and His sacrifice paid the price for our sins and released us to experience true freedom in Him.
We also have complete forgiveness of our sins as a result of the Lord's sacrifice.  Only Jesus has the ability to:
Pardon us, 
Release us, and
Dismiss us from all evidence of wrongdoing
He does this when we willingly give our life to Him.  This is the abundant blessings of God's saving grace that is showered on us.
Salvation is a definite possibility and grace will secure it for anyone who wants it.
When we surrender to Jesus, we don't have to wonder, "Did I win the rewards of eternal life, restful peace, and unconditional love?"  God's word says it is so …and generously more through Jesus Christ.  
Praise God for His rich abundant Grace!