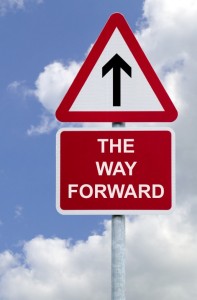 In the middle of the night they took Him.
The religious leaders were after Jesus for a while and when the opportunity presented itself, they arrested Him and took Him immediately to the High priest to be tried.
Peter, whose name means "rock", was there. His story is found in Luke 22.  He had given up everything to follow Jesus for three years.  Now, his world was crumbling into pieces because his Lord was taken.
Peter trailed in the background, watching, waiting, and wondering, "How could this be… What will they do…Will they arrest me too?"
And in the uncertain dark night, as the flames from a kindled fire cast just enough light, a servant girl watched Peter and said "This man was one of Jesus' followers!" In haste, Peter denies and says, "Woman, I don't even know him!"
Later, another bystander said, "You must be one of them!" "No, man, I'm not!" Peter replied.
Yet, another said, "This must be one of them, because he is a Galilean." And again Peter cries, "Man, I don't know what you are talking about!"
A rooster crows in the distance and Jesus turns his gaze upon Peter.
It was then, Peter remembered Jesus' warning, "Before the rooster crows tomorrow morning, you will deny me three times." Instead of being courageous and bold, Peter shrunk back in fear.  Overwhelmed by the sting of failure, Peter ran weeping bitterly (Luke 22:31- 62).
Have you ever allowed the fear of man to hinder your witness for Jesus?  Were you ever silent about your identity as a believer because you were unsure how others would accept you?  Did your heart grieve when you refused to live out loud for Christ?
We all will disappoint God sometimes.
Yet, God will shower us with His grace and mercy … and offer us a second chance.  Jesus did this for Peter when he appointed him to, "feed [His] sheep" Peter was restored and encouraged to forget his failure and move forward to preach the gospel (John 21:15-19).
This is great encouragement for us as believers who fail to represent God well.
Isaiah 43:18 -19 says, "Do not call to mind the former things, or ponder things of the past. Behold, I will do something new, now it will spring forth; will you not be aware of it? I will even make a roadway in the wilderness, rivers in the desert."
If you are grieving because you should've been bolder in your Christian witness, then repent from your sin and move forward in the Lord.  We serve a loving God of second chances.