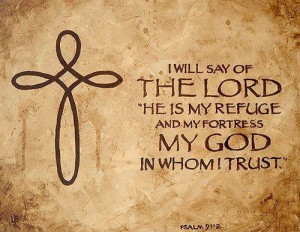 Recently, my two boys and I visited my sisters lake cottage.  I was excited to show my boys what a trip to the lake was all about since this is something I frequently got to do as a child. Being that my children are newly 4 and almost 2 and do not know how to swim, I strapped on their life jackets as soon as we got out of the car.
After a high-speed boat ride, given by my adrenaline-junkie-brother-in-law, we decided to take all the kids to the giant water trampoline anchored to the floor of the lake in front of their cottage.  The kids loved it!  They were jumping around having a fantastic time while Mommy tried to keep them from flying off the side into the water.
My almost 2 year old (who has no fear in the world) was bouncing around just like the big kids when he noticed the slide attached to the side of the trampoline leading into the water.  He was enamored.  He could focus on nothing else, other than that slide.  He wanted to try it and he wasn't going to be happy until he got his way.  I was faced with a decision: remove him from this environment or let him go down the slide.
I decided to allow my child to exercise his own free will and go down the slide, although it was against my better judgement.  Before he did this, however, I prepared a plan.  I asked my brother-in-law to drive the jet ski he was on near the bottom of the slide and pull my little man out of the water after he landed.
With plan in place, I grabbed the armholes of my guys life jacket, picked him up, set him on top of the slide and gave him a little push.  In a split second, he was down the slide and into the water.  With life jacket on, his little body plunged under water and then immediately popped back up.  The joy and excitement of the ride was instantly followed by fear and terror of the water.  He was coughing, gasping and crying as he came up and just as planned, my brother-in-law plucked him out of the water.  We got him back onto the trampoline and from there on out, he only wanted to sit safely in my lap.  Lesson learned.
Isn't this how God works with us?  He allows us to exercise our own free will.  When our desires are outside of what He desires, we sometimes come back coughing, gasping and crying to His safe lap.  He is faithfully there and has a prepared plan in place for handling our poor decisions.  The more we align our desires with His desires for us, the more we get to stay right there in the comfort and safety of His lap.
Whoever dwells in the shelter of the Most High will rest in the shadow of the Almighty.  I will say of the Lord, "He is my refuge and my fortress, my God, in whom I trust."  Surely He will save you from the fowler's snare and from the deadly pestilence.  -Psalm 91: 1-3
Written by Guest blogger Ali Martin.  Thank you Ali!